Online BDSM Training Courses by Mistress Eva Oh
Get my BDSM training courses for submissives, daily tasks, photos, videos and priority access - to me. Be Mine.
I left the corporate world to train as a Professional Dominatrix in 2011 and with this site I bring my acclaimed BDSM experience directly and intimately to you. This site was the first of its kind and there is no better way to get to know me from anywhere in the world. Inside, I have crafted meaningful online courses that reveal who I am and how I love to be served. You will receive regular daily tasks to bring us closer and to keep you focused; and only here do I share with you my entire history of professional photos and videos. Grow with me on your submissive journey.
I will pay attention to you if you follow my tasks well.
Each step inside earns you points that I keep track of. They earn you experiences and deeper interactions with me; and there are a myriad of other intimate rewards that are only found right here. Join me now.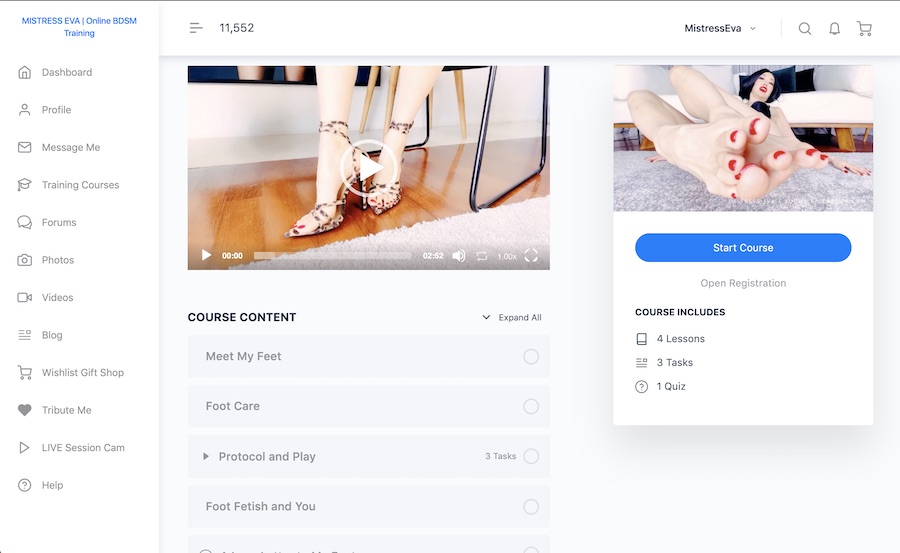 Be Trained by Me - Anytime, Anywhere
I have designed exclusive and comprehensive BDSM training courses that track your progress, earn you points and tell me accurately as to how you are growing as my submissive. They are full of videos and instructions that reveal to you my protocol, preferences, how to worship me - and so much more.
A brand new way of conducting BDSM slave training. A first of its kind.
This is a level of intimacy and an understanding of me that you will not find anywhere else. youwillpleaseme.com is a special space; and I prioritise all who do me the honour of joining me here.
I am struck. It's all first class.
Uncensored Photos & Videos
You get access to my UNCENSORED Photoshoots and BDSM Videos. They feature myself in latex and lingerie with my submissives and fellow kinksters from around the world.
I have never seen anything nor even imagined a website that is so deep, with sensual eroticism at every turn.
Win Prizes
Access My Wishlist
And More...
There is no place I'd rather be.
Start Your Submissive Training Now